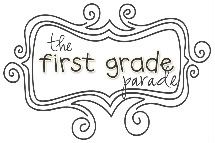 Here is my addition to the link party from the first grade parade!
My name is Kelsey and I am a first year teacher in first grade! I graduated from SUNY Fredonia with my certification in Early Childhood/Childhood and Special Eduation. In the fall, I will begin working toward my Masters degree in Literacy. As a first year teacher, I am totally obsessed with everything first grade! I spend every minute brainstorming, creating, and testing my daring adventures! With all of my new teaching hobbies, I became an obsessive blogger and started my own!
Here are some personals about me to make you laugh... I can't function without a color coded, I am addicted to shopping, I sleep with ear plugs, bubble baths are my favorite way to end the day (all teachers really need a hot tub but in Buffalo I have to use my bathroom), I hate chocolate, but love pasta, my sister is my best friend, I wish I could sing outside my morning shower, I love wearing high heals, I am lost even with a GPS system, I own an apron but I cannot cook, zumba taught me how to dance, and I straighten my hair because I am serious!
Now for the Q & A
Q: What would you be doing if you weren't a teacher?
A: I would love to enter the interior design or architecture world! Even as a little girl, I would draw floor plan choices for my bedroom and ask my sister if I could rearrange our bedrooms!
Q: What are your hobbies?
A: TEACHING... I am always thinking and creating new things. I have been told my new hobby should be cooking, but it is not going very well! I love zumba, coaching cheerleading, making cards/scrapbooking, and SHOPPING (which I do best)!
Q: When you were little, what did you want to be when you grew up?
A: I always said I wanted to be a teacher and (of course) a mom. I couldn't see my life any other way!
Q: What are your guilty pleasures?
A: SHOPPING. I shop when I am happy, sad, lonely, or excited! Recently, the Real Housewives, The Bachelor, and (on a bad day) oreos and peanut butter with a cosmo magazine and best friend!
Q: What is your biggest fear?!
A: Water! It's crazy but so true! I love swimming and the beach but I cannot handle deep, dark, water and all of its creatures!
Q: When you're on vacation, where do you like to go?
A: Eleuthera, Bahamas! Tranquil, secluded, quiet, and HOT HOT HOT!
Q: What's the best advice you've ever received?
A: Every person, situation, and thing in life is a chance to make yourself the strongest person you can be.
Q: What do you value most in others?
A: I really appreciate people who care. You know the people or teachers that make you feel important, cherished, and valued, I really appreciate that!
Q: If you could choose one of your personality traits to pass down to your kids, what would it be?
A: Just one....strength. It has been a bumpy ride, but I have never turned down a challenge.
Q: If you could have lunch with anyone in the world….living or dead…who would it be?
A: ME, in another life!
Now tell us one random thing about yourself:
I was a gymnast for 16 years! In 8th grade, I over rotated a front tuck on the balance beam and broke my jaw!! Just one of my horror gymnast stories!